---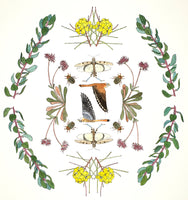 This illustration focuses on the endemic species of the sand hills of the Santa Cruz Mountains. Aside from the American Kestrel, all species in this piece are found only in the Santa Cruz Mountains. Species include: Mount Hermon June Beetle, Silverleaf Manzanita, Ben Lomond Spineflower, Zayante Band-winged Grasshopper, and Santa Cruz Wallflower.
These California Ecosystem illustrations feature threatened, endangered, or endemic species that highlight some unique aspect of California's incredibly diverse habitats. Each card has a short description of the creatures and relationships printed on the back.  
Cards are blank inside and locally printed on 100% cotton paper. They measure 6" x 6" square. Envelopes included. Can be mailed with a single USPS First Class stamp.