---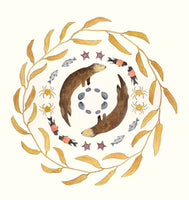 This illustration focuses on the ecological relationships along California's Central Coast. Sea otters play a key role in the health of the coastal environment. This scientifically accurate and beautifully illustrated piece explores those relationships in a unique, mandala format.
These California Ecosystem illustrations feature threatened, endangered, or endemic species that highlight some unique aspect of California's incredibly diverse habitats. Each card has a short description of the creatures and relationships printed on the back.  
Cards are blank inside and locally printed on 100% cotton paper. They measure 6" x 6" square. Envelopes included. Can be mailed with a single USPS First Class stamp.