---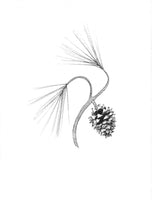 Grey Pines grow in the foothills around California's Central Valley. Their range looks like a bathtub ring around the great valley. The cones are the heaviest of any pine in California and produce dozens of rich pine nuts.

Pen and ink rendering on Duralene film.
Original art is approximately 14" x 20". Unframed.