---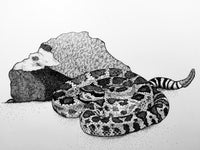 This adult Western Rattlesnake is curled up and ready to warn intruders with a shake of its namesake tail. These rattlesnakes are generally less aggressive than some of their cousins but it's still wise to give them plenty of space.
Pen and ink rendering on Duralene film.
Original art is approximately 8" x 10". Unframed.